Which kind of Content Marketing fits best your needs?
Strategies benchmark
Trends 2016
Every company aims to tailor its content marketing to a specific target audience in order to attract its attention and thus attract more clients and trade. But
what is the most effective content marketing for your own firm or business?
Each and every company has its own specific business model, target and mission, and a look at the annual
survey
conducted by the Content Marketing Institute can surely help you to determine what would be best for you.
Social media content is still the most widely used marketing tool for both B2B and B2C businesses (being used 92% of the time ??oppure: in 92% of cases), but most companies have no truly coherent content marketing strategy and only 37% of B2C businesses have a clearly stated strategy in 2016, although this is an improvement over 27% in 2015.
It is interesting to notice how the use of infographics as marketing tool has reached a new record in 2016 of 77% for enterprise companies and 62% for B2C (last year it was 45%).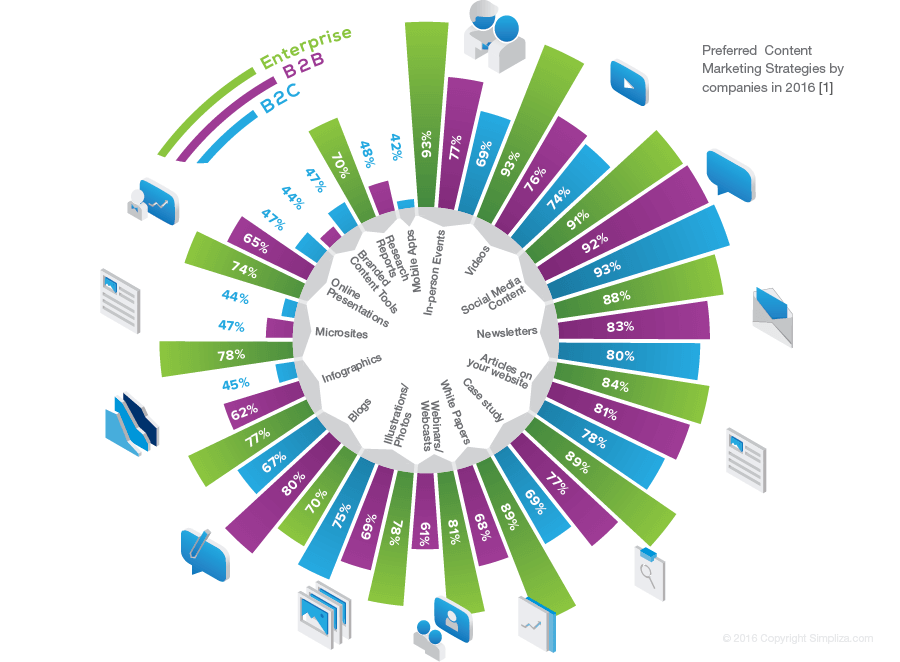 1.
1. Social Media Content (other than blogs)

Often used as a cross-platform strategy for sharing and spreading content on web pages, social media posts are fundamental for every kind of business, enterprise, B2B and B2C.
Strengths
• It is exellent in driving traffic
• Integrated comment system
Weaknesses
• No ads revenue
• Each platform has its own rules
Cost of outsourcing
Low. The cost can rise a lot if it is to be combined with a good strategy, particularly if this is cross-platform
2.
E-Newsletter

Newsletter strategies transform ideas into actions by using one of the most traditional systems: emails.
An effective email marketing strategy makes it possible to target customers very precisely. It is low cost, scalable and direct.
Strengths
• Customer targeting and segmentation
• Scalable with minor efforts and costs
• Easy to start with
Weaknesses
• Risk of eMail blacklisting
• Timing is difficult
Cost to outsource
3.
Videos

Video is currently taking the world of content marketing by storm. According to Cisco [1], video will account for 69% of all consumer internet traffic by 2017. Video-on-demand traffic alone will have almost trebled.
Strengths
• User oriented
• 92% of B2B customers watch online videos [3]
• Easy targeting
Weaknesses
• Time-consuming
• Expensive tools may be required
• Various types of skills are needed
Cost of outsourcing
High. The market requires increasingly high standards of quality
4.
Articles

More impersonal than blog posts, not as authoritative as a white paper. Articles content marketing strategy are widely used by either B2B and B2C businesses.
Strengths
• Authoritative
• SEO booster
Weaknesses
• Contents should be closely connected to the targt interests of users
Cost of outsourcing
5.
In-Person Events

This is perhaps the most powerful tactic in marketing strategy. While the web is getting increasingly overloaded with marketing content, face-to-face conversations allow marketers to construct made to measure relationships with potential partners and existing customers. The efectiveness of in-person events in B2B tactics increased from 69% to 75% this year according to CMI 2016 report [3 – Content Marketing Insitute – 2016 Benchmarks, Budgets and Trends].
Strengths
• Full possibilities for expression and use of body language
• No risk of distractions or interruptions
• Easy to start from
Weaknesses
• It is hard to bring all one's clients to one location, especially in the case of non-local businesses
• Timing is difficult
6.
White Papers

A good white paper generates leads, helping business targets to understand an issue, solve a problem or make a decision.
Strengths
• Focussed on the solutions or benefits of a B2B product and services
• May have a lifespan of over 2 years
• Very persuasive
Weaknesses
• Expensive and time consuming
• Unsuitable for B2C
• is necessary a thorough study on the topic
Cost of outsourcing
It can be very expensive, and it may take one to three months just to get started.
7.
Case Study

Analogous on-line version of the word-of-mouth testimonial, the case study is a 1-2 pages lenght document that reassure any prospect working in a similar industry or facing a similar challange. As well as white papers, case studies are powerful, convincing, and cost-effective marketing materials, any B2B vendor should produce.
Strengths
• Focus on customer's experience
• Credibility booster
Cost to outsource
8.
Illustrations/ Photos

Posts with at least one image gets 64.9% more shares than the ones with just text [4]. This is particulary true on social networks like Facebook and Twitter. Articles and blog posts, on the other hand, in addition to making the actual document more vivid, they are a very useful for SEO.
Strengths
• Highly shared by social media users
• SEO friendly
Weaknesses
• Photo/vector editing skills required
• Googled images can be protected by copyright
Cost to outsource
Low. A good strategy is designed to minimize the creation of each image
9.
Blog Posts

Writing blog posts are a well used marketing strategy tool. Allows to engage users, build community, increase the user's perception of authority on specific topics and, last but not least, boost SEO.Usually between 300 to 500 words in lenght, provide a personal, inside point of view.
Strengths
• Provide personal, inside point of view
• Boosts SEO
Weaknesses
• Blogs are (expected to be) updated frequently
Cost to outsource
Low to moderate. One of most cost-effective strategies. However, depends on the specificity of the content, lenght and frequency of publication
10.
Webinars/ Webcasts

Webinars are the online version of the in-person events. Unlike many types of content marketing, webinars can promt faster buying decisions and gain high short-term ROI. Definitely one of the most effective content marketing strategies for B2B.
Strengths
• Drives lead generation
• 34% take a purchase decision on info they learned [5]
• High short-term ROI
Weaknesses
• You may have less attention
• Promotion is needed
Cost to outsource
11.
Online Presentations

Online presentations are used primarily for technology demos (67%), technical info (66%), technology news & analysis (57%), how-to info (52%) and training (48%) [6]. They are excellent in driving customer engagement, create loyalty and improve customer retention. An online presentation can convert both live and on demand even for years.
Strengths
• Most attender goes back to vendor website after the presentation
• Easily shared with colleagues
Weaknesses
• Need sponsoring
• Keeping user's attention alive can be difficult
Cost to outsource
High. Finding the right people that have the right competences is not an easy task
12.
Infographics

One of the challanges for brands is to communicate stories, data, products in an entertaining way. Converting that content into high-impact and stunning visual design maks them eye catching, easy to digest, shareable (+94%, compared to text). Infographic marketing offers good potential for generating engagement, growing your audience, earning backlinks (SEO).
Strengths
• Eye catching, easy toread
• Gains lot of shares
Weaknesses
• If raster, text are not read by crawlers, witch is bad for SEO
• Takes a long time to create a well done infographic
Cost to outsource
[1] Content Marketing Insitute – 2016 Benchmarks, Budgets and Trends
[2] Cisco Visual Networking Index – Forecast and Methodology, 2014-2019 White Paper
[3] B2BMarketing – B2B video marketing strategies
[4] Okdork – Why content goes viral, Noah Kagan
[5] Briancartergroup – Why webinars are one of the highest profit content marketing strategies
[6] UBM tech 2014 content connect survey